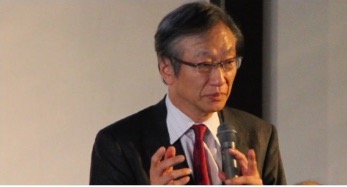 Message from the President
Now the world and Japan are in the midst of crustal movements. It will take 50 years to make Japan a completely different country. Most of the demographic structure of people under the age of 50, which has continued for centuries, will shift to a society in which the post-reproductive population of the 21st century type, which is over 50 years old, accounts for about one-third. From now on until around 2040, the challenges brought about by aging will become more serious and will be boiled down.

However, after that, it will make a big qualitative change. Life, family, labor, community and medical care will change dramatically. We need to build new values and societies. Thinking of the future as an extension of the past, forecasting is dangerous. Backcasting is necessary to look at the present from the future and envision it. The Future Medical Research Model was created for that purpose.
The representative of "Future Medical Research Machine God" has been the director of the Medical Policy Research Department at the National Medical Hospital Management Institute and the National Institute of Health and Medical Sciences for 20 years, researching and proposing policies of national and local governments, researching and training hospital management. Involved in several revisions of the medical law, formation of the basic concept of Health Japan 21, 500 hospitals, 1 million patient satisfaction, 100,000 staff satisfaction surveys, etc. In recent years, we have expanded our activities to comprehensive community care, social welfare, and community development.
During that time, the "Future Health Research Institute" has a network of leading Japanese leaders in the fields of medical care, long-term care, prevention, welfare, and community development, which we have researched and proposed together. During the variable period, a big picture and a multifaceted analysis are needed at the same time. It is our desire to help you with your challenges from a "future, interdisciplinary perspective."
Future Health Research Institute
Representative Director Toshihiko Hasegawa
Representative Biography
Representative Director of Future Health Research Institute.
Graduated from Osaka University Medical School,
Graduated from Harvard University School of Public Health, Master's Program,
Assistant Manager, Planning Division, Health Policy Bureau, Ministry of Health and Welfare
National Cancer Center Administration Department Planning Office Manager,
Director, Medical Policy Research Department, National Institute of Health and Hospital Management,
National Medical and Hospital Management Institute,
After the integration of the National Institute of Public Health and the establishment of the National Institute of Public Health, Dean of the Faculty of Policy Science,
After working as a chief professor in the Department of Medical Management, Nippon Medical School, he is in his current position.
Currently, a visiting researcher at the National Institute of Science and Technology Policy, Ministry of Education, Culture, Sports, Science and Technology,
Lecturer at Nihon University, Part-time Lecturer at Okayama University School of Medicine,
He also serves as a technical researcher of the Japan International Cooperation Agency.
Institute Profile
Organization Name
Future Health Research Institute
Organization Japanese Name
一般社団法人未来医療研究機構
Representative
Toshihiko Hasegawa
Location
1-12-2 Mukogaoka, Bunkyo-ku, Tokyo 2nd floor
TEL
03-3830-0575
Email
info@rifh.or.jp
Business content

Hospital / local government consulting business

Bank
Sumitomo Mitsui Banking Corporation Hakusan Branch
Suppliers
Cabinet Office, Ministry of Health, Labor and Welfare, Ministry of Internal Affairs and Communications, Ministry of Economy, Trade and Industry
Shiga Prefecture, Higashiomi City, medical institutions, pharmaceutical companies, etc.
Access Information
1-12-2 Mukogaoka, Bunkyo-ku, Tokyo 2nd floor
By train: 8 minutes (500m) from Todaimae Station on the Namboku Line
Business hours: Weekdays 12: 00 ~ 17: 00